Read How We Participated in Total Health Scheme – GAPIO
India's First Truly Integrated Comprehensive Health Scheme
Padma Vibhushan Shri Prathap C Reddy, Chairman Apollo Hospitals Group launched on 27 Oct 2013, India's first integrated health care system –'Total Health' – at Aragonda village of Thavanampalle Mandal of Chittoor district through the Total Health Trust which is a non-profit organization.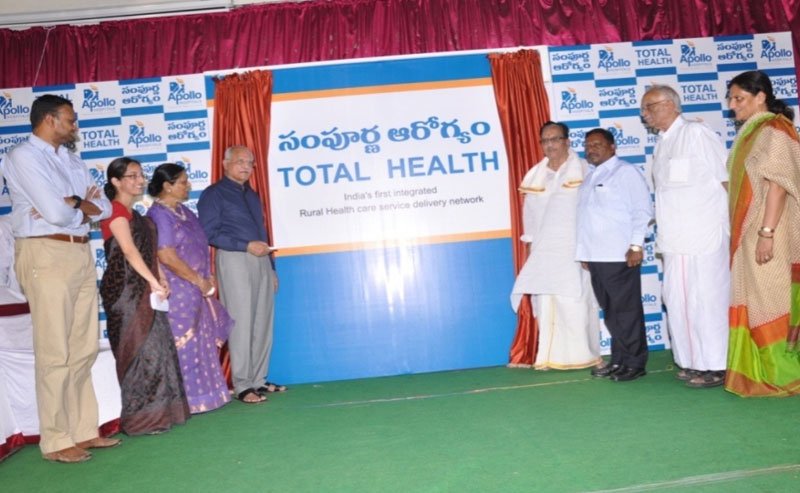 The initiative aims at improving the health of the communities through education, promotion of healthy lifestyle, healthcare research for disease and injury prevention and improved sanitation with a focus on design, development and delivery of innovative healthcare solutions.
The 'Total Health' scheme in Aragonda launched as a pilot project will target about 70,000 populations in the Thavanampalle Mandal. It will provide clinics delivering primary care, risk screening, disease management, training of medical paramedical staff, technicians community engagement and project management.
On 15th Dec 2013, the first initiative under the project was launched to carry out a comprehensive survey in the Aragonda Gram Panchayat (a total population of approximately 6,500). The survey was conducted by the students of Apollo College of Nursing, Aragonda, under the guidance of Lt Gen (Dr.) Mandeep Singh, Padma Shri Dr. Venkat C Ram, Mr. Ram Babu, the Project director of the initiative and the principal Ms. Jayanthi and the staff of CON. Inputs for the survey were received from GAPIO and Col A Kotwal, VSM, Director Medical Research, of the Armed Forces.
The survey essentially had three components:
Household Information: this would provide the information of the entire household including sanitation; water supply; garbage disposal and the socio economic status.
The second part was screening of the women and children under 5 years. This is within the scope of the NRHM program.
The third part was survey of Non Communicable Diseases Risk based on the WHO STEPS approach. It envisaged screening of all individuals above 15 years. Based on the questionnaire, measurement of height/weight; BMI and Waist Hip ratio; BP recordings; as also basic biochemical parameters of Random Blood Sugar and Albumin in Urine, the population was grouped into those with Low Risk of NCDs and those with moderate to High Risk. Those with Moderate and High Risk underwent further clinical and biochemical evaluation including Serum Creatinine/ Total Cholesterol/Lipid Profile/ECG /ECHO and were appropriately diagnosed and managed/ followed up.
Dr. Kris Vijay, Dr. Om Ganda, Dr. P Mohan and Dr. Sanku Rao members of Global Association of Physicians of Indian Origin (GAPIO) have committed their support to provide clinical risk assessment based on the above data. Continuous follow up will be done for the NCDs on a yearly basis in the community which will help in defining the risk stratification and the effect of health education/ behavioral changes and other preventive approaches instituted for the community.