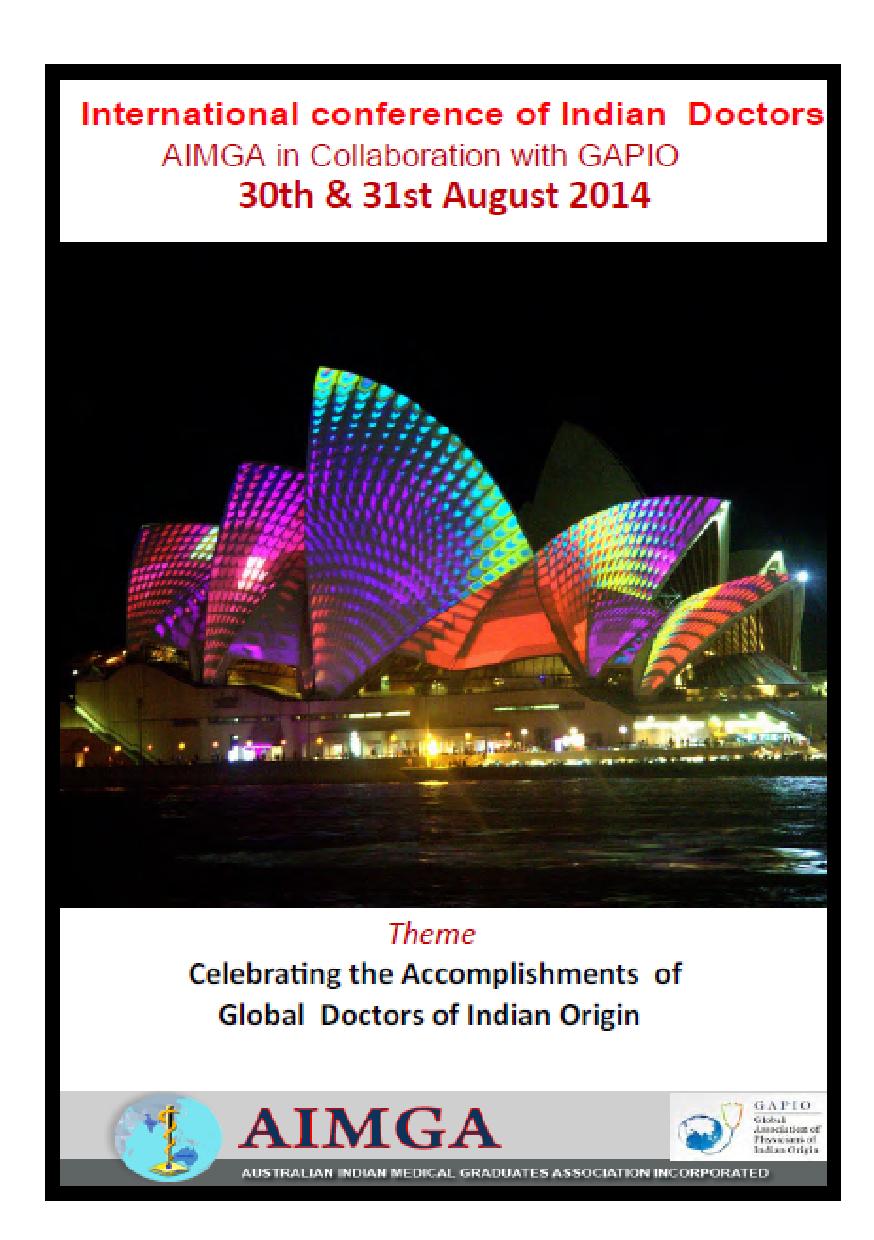 International Conference of Indian Doctors Global
AIMGA in

 Collaboration with GAPIO, Sydney, Australia

 
A report by Dr. Shailja Chaturvedi – Conference convenor, GAPIO member
One of the most significant events in the field of Indian medicine in the last 5 years has been the birth of GAPIO to upstage the united strength of Indian doctors from around the world. It has provided the unprecedented opportunities for our colleagues to use their skills, resources, experience and wisdom in accomplishing their philanthropic aspirations.  Inspired by the passion and enthusiasm of rapidly growing membership of GAPIO, an international conference was organised in Sydney on 30th and 31st of August, "Accomplishments and Aspirations of Global Indian Doctors" by Australian Indian Medical Graduate Association.
By all measures it was rated as successful despite its small number of fewer than 200 delegates. We were fortunate enough to receive the good wishes from the Prime Ministers and Health Ministers of India, Australia and Fiji. The delegates came from India, US, Malaysia, NZ and UK in addition to the local majority and from interstate.
We had excellent bunch of eminent speakers from India Australia and US covering the areas of transplant and robotic surgery in India, research and education, engagement with India and doctors as NGOs. Australia's high profile researchers and academics of Indian descent presented their best show making us realise that we are not far behind our US counterparts. We presented our request of working in collaboration with Indian government to the Consul General representing the High Commissioner who was overseas. 
The conference was inaugurated by the Health minister of NSW who gratefully acknowledged the much appreciated contribution Indian doctors continue to make in Australia's highly efficient medical workforce. The keynote speaker Prof. Mukesh Haikerwal President of World Medical Association inspired us towards the leadership roles beyond our clinical responsibilities. Inherently humble and modest as Indians are, often get overlooked in their achievements and the significant contribution they make in every field of science and humanity. Conferences like the one in Sydney crystallise and highlight the role Indian doctors' play in elevating the global health status.
The plenary address at the outset of the academic sessions The Alien Indian Doctor was presented by a renowned neuropsychiatrist Prof. Perminder Sachdev an AIIMS graduate who skilfully told the story of youthful adventurous doctor sharing the emotional, social and physical challenges of emigrating and immigrating.
Each presentation was enlightening with its latest scientific contents, the excellence and its capacity to translate for its ultimate goal its utility for The People.
The theme of the conference was directed not only towards boosting our confidence in providing the best possible services in our adopted country but to use our collective resource in lighting every corner of our ancestral home with world class health facilities. I am hoping that the chain will continue to grow towards the credibility of Indian doctors as dedicated, competent, altruistic knowledgeable and compassionate.