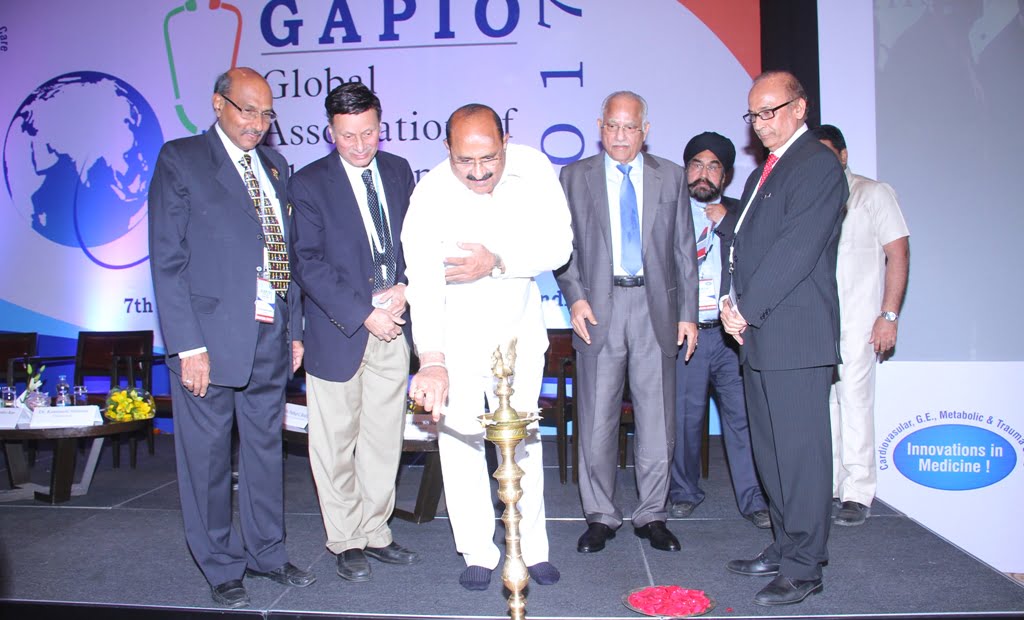 VII Annual GAPIO conference was successfully concluded on 7th and 8th January 2017 at Hyderabad. 
The conference was inaugurated by Dr. Kamineni Srinivas, Hon'ble Minister for Health & Family Welfare, Govt. of Andhra Pradesh along with Dr. Prathap C Reddy, Chairman Apollo Hospitals Group and Founder President of GAPIO, outgoing President of GAPIO Dr. Sanku Rao, New President of GAPIO Dr. Ramesh Mehta, New Vice President of GAPIO Dr. Anupam Sibal, New Secretary General of GAPIO Nandakumar Jairam, New Joint Secretary of GAPIO Dr. Sudhir Parikh and New Treasurer of GAPIO Dr. Rohini Sridhar.
Dr. Sangita Reddy was the Chief Guest for the evening function along with other prominent dignitaries. "GAPIO World Healthcare Innovative Entrepreneur of the Year" was conferred to Dr. Nawab Shafi Ul Mulk of Global Hawk Telemedicine & Diagnostics from UAE. GAPIO awards were also presented in the evening function.
GAPIO Lifetime Achievement Award was conferred on Dr. A M Nisar Syed.
GAPIO Service Excellence Award was presented to Dr. Arvind Gupta, Dr. Nirmal Kumar and Dr. Sanku Rao.
GAPIO Leadership Award was presented to Dr. Loknath Shandilya and Dr. Prasad Rao Nimmagadda.
GAPIO Emerging Young Leaders Award was presented to Dr. Neeraj Bhala.
GAPIO Special Contribution Award was presented to outgoing President, Dr. Sanku Rao.
The conference was started with 3 pre-conference workshops i.e. Pediatric Basic Life Support at Rainbow Children's Hospitals, Advanced Ultrasound Trauma & life Support Course (AUTLS), jointly by CARE / AIIMS – Delhi at CARE Hospitals and Breast & Cervical Cancer Screening at Tanvir Hospital on 6th January 2017.
The scientific programme of the main conference on 7th January had included sessions on Cardio Vascular Diseases, Metabolic Disorders, Brain Trauma – Kidney and Oncology. The sessions on 8th January 2017 were Rheumatology, Gastro Intestinal Disorders, Paediatrics, Robotic Surgery, Mental Health, Global Health Care, Emerging Healthcare Challenges. More than 300 delegates participated in the conference.  
Please click on the link to download the report of "Pre-conference Workshop on Cervical Cancer and HPV vaccination".