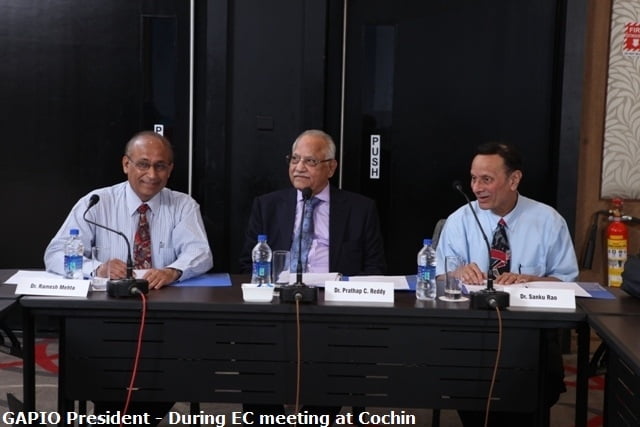 Global Association of Physicians of Indian Origin holds its annual conference in Kerala
Delegates across the globe will launch screening programs in non-communicable diseases which is set to achieve representation from 30 countries
Physicians of Indian origin from across the globe congregated at the third annual conference of Global Association of Physicians of Indian Origin (GAPIO) in Kochi, Kerala, with a vision to improve healthcare worldwide from 1st to 3rd January 2013. GAPIO was launched in January 2011 to bring together 1.2 million physicians of Indian origin in the world on one professional platform. This substantial workforce of physicians is a valuable resource, which can help to mobilize significant developments in the healthcare globally. GAPIO already has representation from 15 countries in the President's Council.
Speaking on the occasion of 3rd Annual conference at Kochi, Dr. Prathap C Reddy, President, GAPIO said "establishing itself as an association of the Indian medical diaspora, GAPIO is marching ahead to impact global healthcare. The moment has arrived for the Indian doctor to take a lead in shaping the contours of global health scenario".
GAPIO will launch a comprehensive screening program for non-communicable diseases in Chittoor district in Andhra Pradesh as a pilot which will then be replicated in other parts of the country according to Dr Reddy. GAPIO would like to work closely with the Government of India and different state governments in screening programs highlighted Dr Reddy.
Dr Sanku Rao, Vice President, GAPIO announced the plastic surgery program that will be held in Bilaspur, Chhattisgarh in January where more than 100 patients will undergo free surgery.
According to Dr. Ramesh Mehta, Secretary General, GAPIO, an exchange program to facilitate senior faculty exchange across institutions in India and other countries will also be launched this year.
"The President Council of GAPIO has resolved to draw a large number of members from the fields of research and academics this year to help achieve its objectives. GAPIO will also focus on encouraging young physicians to participate in exchange programs across the globe" said Dr Anupam Sibal Joint Secretary, GAPIO.
Having held conferences in Delhi, Birmingham, Hyderabad, New Jersey and Kochi, GAPIO will hold its 3rd midyear conference at Los Angeles in June 2013 to carry forward the agenda of the organisations. By the end of 2013, GAPIO will have representatives from more than 30 countries.